From Park Magazine NY. Please visit https://parkmagazineny.com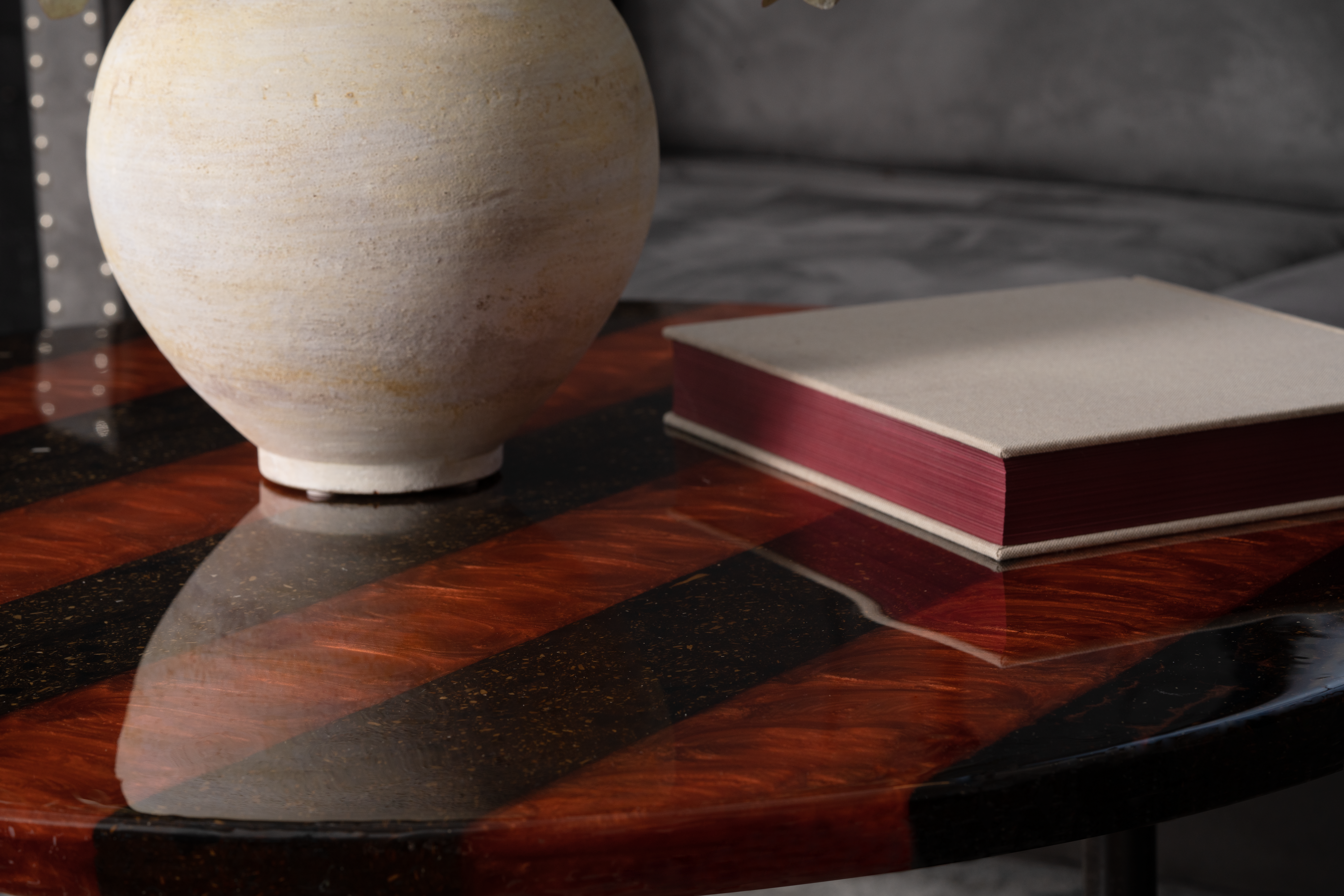 What Do We Do With Our Garbage?
Environmental issues are in the spotlight like never before with climate change escalating disastrous storms, droughts, wildfires, and intense heat waves around the globe. One ecological problem
that has been causing alarm for decades is waste disposal. It was back in 1987 that a barge adrift for five months bearing six million pounds of New York garbage made headlines, turned away by six states and three foreign countries. Our landfills are full, and toxic. What do we do with our garbage?
Goal: To End Landfills
Now, one company has a revolutionary solution: furniture made from garbage. Ecogensus has patented waste recycling machinery called the Rhino Recycler, which processes waste into printed out "rods." These rods are then placed into molds and pressed into board shapes used to create luxury furniture in a wood like substitute.
The process is also incredibly uncomplicated; an assortment of typical household waste- food waste, cardboard and other paper, mixed plastics, yard waste, textiles, wood chips- are dumped unsorted into the recycling machine.
The boards are more solid than wood, lower in moisture, and more stable. And it's beautiful. "People look at this, and if you don't tell them what it is, they have no idea that it was made from waste. They assume it's some kind of granite-wood combination," says Bjornulf Ostvik, Ecogensus founder and CEO. "But if you're buying one of these pieces, you are also directly helping stop landfills and dumps in a way that's never been able to be done before." Landfills, he notes, are the world's third largest source of methane, a greenhouse gas that contributes to global warming.
At this time, the line consists of wood-based items like tables and dressers. The smallest item is a serving board. "It looks like some sort of wood-marble hybrid, but it's food safe and has a special coating," Ostvik says.
Hand-made Furniture; Artist & Designer Collaborations in the Works
For now, Ostvik is designing the furniture and making it by hand along with some staff and local artisan support. Current handcrafted tables are priced at $4,000 to $5,000, comparable to Restoration Hardware price points. The brand is seeking out artists and designers for collaborations. "I don't consider myself a real designer. I'm just showing what we can do with the post-waste material. But we hope to have some real design collaborations, and then those will probably be at a bit higher price point." Future lines will be produced at higher volume and are expected to achieve lower price points.
He likens their situation to Tesla when it started.
"We're starting with premium, built-by-hand artistic pieces because this is very new for us. And then, as we get to volume and build up orders, it won't take us long to then get into a mass production line."
Available Online, NYC Showroom to Come
Currently sales are online only via their newly launched website TheHouseOfEcologie.com. The company is also actively seeking gallery space in New York for its first physical space.
Offshoot of Lumber Substitute for Affordable Housing
The furniture line came to fruition while Ostvik was working on producing sustainable building materials to be used for affordable housing for the developing world, as well as in the developed world. While building a tiny house in his backyard, he realized some of these recycled materials had a beautiful, natural look, and figured that furniture pieces made from it would be easier to show to people.
Premium Products Out of Waste
"Initially, I was thinking I want people to think differently about waste. And I can show them that you can actually make beautiful premium products out of waste, and I'm not talking about just recovering specific components. I'm talking about actually taking all of waste, breaking it down, and then building it back up into new materials."
The response was very enthusiastic, so they launched this home furnishings line.
"People loved the design, and they loved the story and knowing that it was sustainable and preventing material from going to the landfill."
Quality
The sustainable lumber substitute for use in construction will eventually be available widely at retailers as production is ramped up. Ostvik's goal is not just to make recycled materials into new products, but to make them better than the thing they're substituting. "So people actually want that more than the virgin material that it's replacing. That's how you really open up demand for these types of products."
Launched Ecogensus In 2015
After years as an innovator at aerospace company Lockheed Martin, Ostvik launched Ecogensus in 2015, focusing on alternative energy, sustainable materials manufacturing, resource recovery, and advanced recycling methods. He earned a Master's of Public Administration from Cornell, and a JD from George Washington University Law School. Based in Connecticut, Ostvik is a longtime supporter of the World Wildlife Foundation and The Nature Conservancy.
www.thehouseofecologie.com